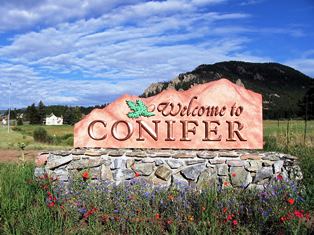 This land is teeming with life and energy that you can feel. Rich with history and natural beauty, the spirit of the land is full of originality and freedom; Shadow Mountain is an incredible place to be.
Nestled in foothills 15 miles southwest of Denver, Conifer is far enough from the big city to feel like a true mountain community, but still close enough for visitors to enjoy all Denver has to offer.
Hills in Conifer, now sprinkled with new homes, were first occupied by Arapaho, Ute and Cheyenne tribes who used the area as a hunting ground. Native Americans were followed by merchants, trappers, ranchers and miners. Historic Reynolds Park, about five miles outside Conifer, stands as a memorial to Conifer's pioneer era, and the trails originating here range from rolling to rugged.
In the late 1800s, roads carved into the foothills opened Conifer and surrounding areas to those in search of adventure and wealth. In 1861, Major Robert Bradford developed a toll road from his home in what is now Ken Caryl, west over the foothills, and then up South Turkey Creek to what was then called Bradford Junction and is today where the Yellow Barn is located. The Bradford Toll road intersected with the Bergen Park Toll Road coming down from the north. In 1936 Noah Legault was interviewed about his memories of the old Bradford Toll Road.
Today, a mix of rustic cabins and new, state-of-the-art homes peek from behind expanses of blue spruce, pine, fir and aspen trees. What does stand out is this town's abundance of natural beauty. The Pike National Forest, which runs right through town, provides a home for deer, elk, foxes, birds and rabbits. In the spring and summer, seasonal wildflowers carpet Conifer's hills. The city also maintains multiple parks.
Information resourced from the Conifer Historical Society.