The easiest and safest way to put out a fire.
The fire extinguisher ball is based on revolutionary technology that provides much more advanced solutions than portable extinguishers. The limitations and problems associated with conventional extinguishing methods (maintenance, training, etc.) are at the origin of its development. It is easy to use and provides permanent protection as it self-activates in the presence of a flame, without human intervention.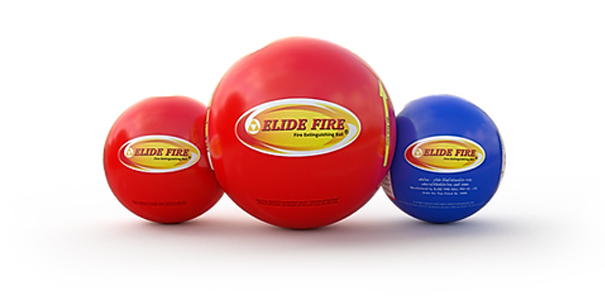 EASY TO USE
No pin, no moving parts or mechanical parts. Zero training costs.
NO MAINTENANCE
The performance life is 5 years, during which time no inspection or maintenance is required.
FLEXIBLE
Its aesthetic design and easy installation allow it to be simply placed on a table or hung on a wall thanks to its metal bracket.
SELF-ACTIVATION
The ball activates even in an unoccupied space or area. 24-hour surveillance role.
COMPACT AND LIGHT
The 6-inch ball diameter and its weight of under 3lbs make it compact and easy to store or transport.
NO FALSE ALARMS
The ball is activated only on contact with fire.
The extinguisher ball is extremely versatile, it can be placed in places where there is a risk of fire, such as over light switches, in kitchens or over overloaded outlets. There are two ways to use it:
Active protection: When a fire breaks out, you just need to throw the ball into the fire. It will fall naturally on contact with the flames and activate in 3 to 10 seconds. No pins, spare parts or training: the ball measures 6-inches in diameter and weighs about 2.86lbs, it is very easy to use. No special training or skills are necessary.
Passive protection: One of the most important advantages of the extinguisher ball is that it is triggered automatically in the presence of fire. If placed in high fire risk areas, where most fires occur, it will automatically activate when in contact with a flame.
The best option for passive use is to install the ball in the most vulnerable places in its wire basket. The ball can be attached to a stand or simply placed on a flat, visible and easily accessible surface. The most recommended areas are places with high fire risk such as electrical cabinets, kitchens, storage rooms, engine compartments etc.